Black Manta has been trying to repair his family relations — but it would require a major sacrifice that he just can't come to terms with.
In the DC Extended Universe, Black Manta proved to be something of an unexpected fan favorite. Afforded a strong amount of depth and personality thanks to the performance of Yahya Abdul-Mateen II in the role, Black Manta and his family issues have increasingly become prevalent in the core-DC comics — where they just were one of the stories just featured in a major milestone issue for his greatest nemesis, Aquaman.
In the story "Father's Day" from Aquaman 80th Anniversary 100-Page Special by Geoff Johns, Paul Pelletier, Norm Rapmund, Josh Reed, & Hi-Fi, Black Manta confronts his son and tries to reaffirm their connection — but only runs into tension with his heroic offspring.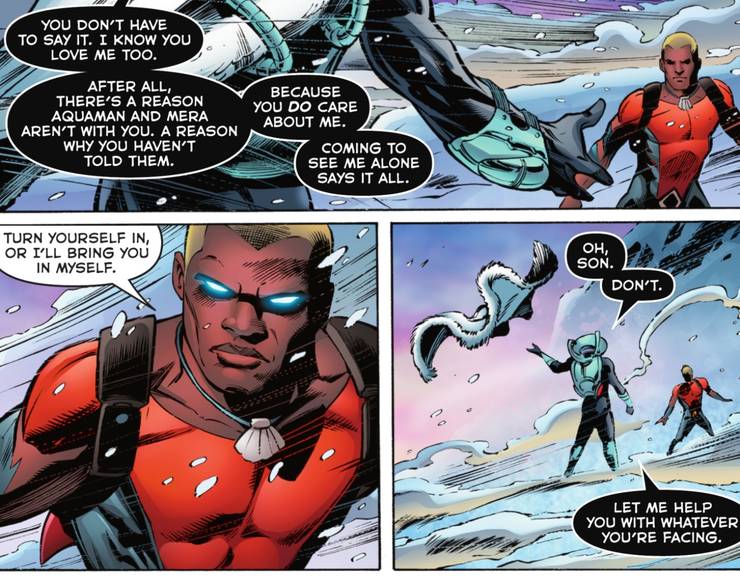 The current iteration of Jackson Hyde — aka Aqualad — was introduced in the story "Legacy" from DC: Rebirth #1 by Geoff Johns and Gary Frank. Jackson Hyde is the son of David Hyde, aka the villainous Black Manta, and an Atlantean woman named Lucia. After discovering his true identity, Lucia fled to the surface to escape his grasp — bringing her son with her. Moving to the deserts of New Mexico in an attempt to further hide his identity, Jackson eventually learned the truth and reconnected with his Atlantean roots while becoming a hero on the surface — aka the new Aqualad. Coming under the guidance of Aquaman himself, Jackson and his father eventually learned about one another and became enemies.
Throughout their confrontations, Black Manta discovered despite his best efforts to turn a cold shoulder to him, he could stop himself from loving his son. But Black Manta has done his best to genuinely start a relationship with his son, as revealed in "Father's Day." It turns out that every father's day, Jackson excuses himself from his duties and makes his way up north to meet with his father as part of a pre-arranged meeting. Every time, Aqualad arrives in the frigid north, hoping that his father will have finally seen the errors of his ways and turn himself in to the authorities to confront the consequences of his actions. While Jackson confronts him over his most recent crimes, Black Manta instead inquires about how his day-to-day life is going.
Jackson wants to ask about crimes all across the world, while his father asks about school and his boyfriend. He even tries to reach out and get Jackson to open up — commenting that he would always be willing to even die for his son if the need arose, and reminding him that he does genuinely love his son. But as Jackson points out, he doesn't love him enough to sacrifice his freedom and turn himself in — resulting in the pair coming to blows in the snow.
It turns out he doesn't even have enough faith to actually arrive in person, knowing his son could potentially defeat him and bring him back to face justice. Instead, he sends androids every year, refusing to face his son directly out of an apparent fear of actually being caught. Jackson admits to himself that what ultimately has been bothering him lately is the knowledge that his father will likely never come to see the error of his ways — and that Jackson will never stop having hope, meaning he'll always be visiting him every year and just having his hopes dashed again and again.
It's a tragic reveal for both characters and a reminder of the inherent loneliness at the heart of Black Manta. One of the most recognizable and memorable foes Aquaman has ever had, Black Manta has repeatedly shown himself to be a remarkably dangerous figure in the DC Universe — even briefly earning a position among the Legion of Doom. But even at his darkest, Black Manta is somewhat defined by his love for his father and now his son — and those attempts might be the only thing in the world that could ever have a chance of restoring his family and fixing his primary relationship.