Francesco Mattina's latest variant cover for December's DC vs. Vampires #3 shows the Man of Steel looking positively ready to rip a throat open.
Superman is far from his usual Big Blue Boy Scout appearance on a new variant cover for the upcoming DC vs. Vampires series. In fact, he's looking downright feral and about to suck some blood.
Vampire Superman takes center stage on Francesco Mattina's cover for DC vs. Vampires #3, set to release in December. While the jury is out on whether or not Clark Kent will actually become a vamp over the course of the issue, Mattina has also produced variant covers for DC vs Vampires #1-2 showing vampiric renditions of Batman and Green Lantern, suggesting that every member of the Justice League is on the list for a horrible variant cover transformation.
DC vs. Vampires is a 12-issue series that pits DC's superheroes against bloodthirsty foes in the same vein as 2019's DCeased, the fan-favorite series spearheaded by Tom Taylor which saw the Justice League dealing with a zombie apocalypse. Andrew Bennett, the titular figure of the I…Vampire franchise and one of the few characters within the DC Universe who actually is a vampire, will play an important role in the series, and Issue 3 sees Batman looking into Bennett's disappearance and diving into the sewers beneath the Hall of Justice.
Written by James Tynion IV and Matthew Rosenberg with artwork by Otto Schmidt, the first issue of DC vs. Vampires arrives on Oct 26. Issue 3, featuring the Superman variant cover, hits comic book store shelves Dec. 28.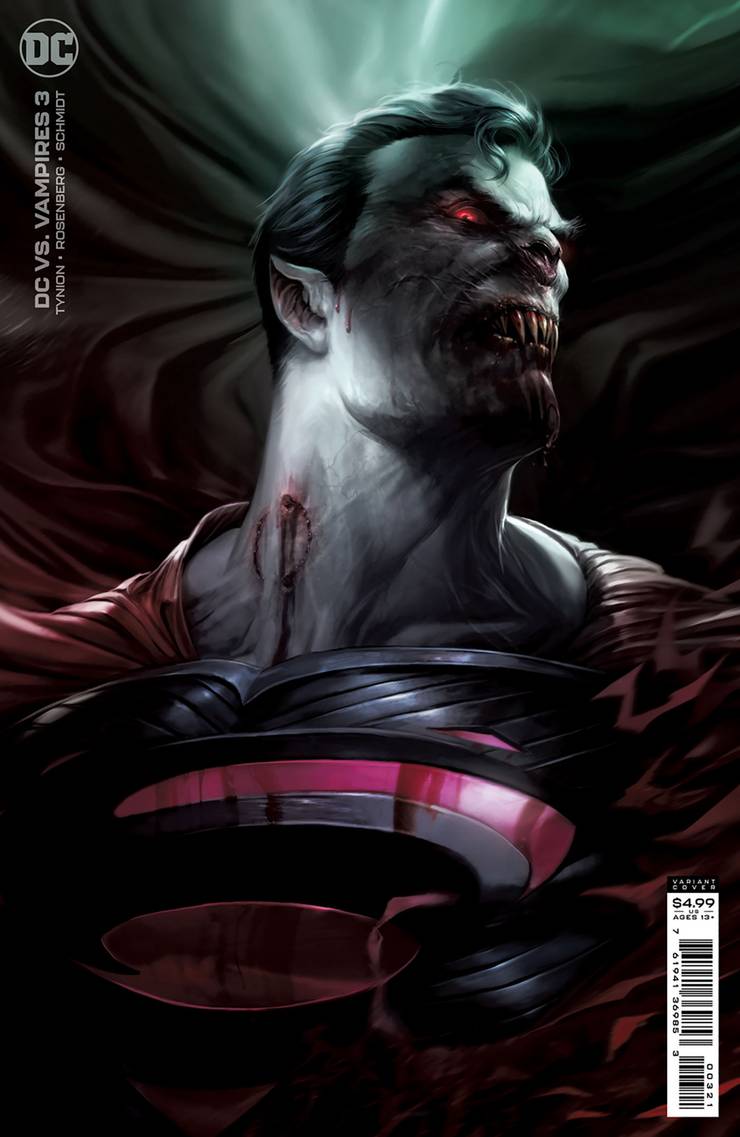 DC VS. VAMPIRES #3
Written by JAMES TYNION IV
and MATTHEW ROSENBERG
Art and cover by OTTO SCHMIDT
Variant cover by FRANCESCO MATTINA
$3.99 US | 32 pages | 3 of 12 | $4.99 US Variant (Card stock)
ON SALE 12/28/21
Vampires are hunting on the streets of Gotham City as the coming undead plague makes its first move. Batman's investigation into the disappearance of Andrew Bennett takes him into the sewers beneath the Hall of Justice, where he makes a stunning discovery! And the fall of another hero means the war for Earth has begun!