A preview for the seventh issue introduces knock-off versions of Batman's rogues gallery, each with their own spin on a villain's stolen gimmick.
Gotham City just got a helping of new villains in Harley Quinn #7, though they lack originality.
A preview for the issue features the series' newest villain, Keepsake, forming his own team of crooks by mind controlling them with drugs and an auditory device. Keepsake's shtick is that he used to work for numerous villains in Gotham, including Harley Quinn while she was with the Joker, taking their gear as "keepsakes" to use for his own schemes. His new team of villains have been outfitted with these stolen goods to turn them into knock-off versions of Batman's rogues gallery.
The obvious characters to immediately catch readers' eyes as they turn the page include the likes of "Blane" and "Fellow Frigid." The two are stand-ins for major Batman villains Bane and Mr. Freeze, the first sporting the venom-induced villain's iconic mask while Frigid wears a fishbowl style helmet and brandishes a cold gun of his own. Of course, Bane is currently dead in comics, meaning there won't be two Banes in Gotham until Blane disappears and/or the original returns as a zombie in the pages of Task Force Z next month. Also included in the lineup are the the Polyphonist, Exclamation and Sage Swyne, who are meant to be off-brand versions of the Ventriloquist, Riddler and Professor Pyg, respectively.
This is not the first time that a Harley Quinn series has included twists on classic characters from comics and pop culture. The New 52 era of the clown princess featured characters that acted as references to Star Wars, The Popeye Show and even the comic company's competition.
In Harley Quinn #4 (2014), Harley runs into "Guido" in a diner, a bounty hunter who works for "Bubba," and the two recreate Han Solo's altercation with Greedo in 1977's Star Wars. While Harley doesn't shoot first, she does stab Guido with a fork before he can. Later on in the series, Harley and her Gang of Harleys face off against a sailor who has been eating alien seaweed to make himself stronger in the process, and towards the end of the series, Amanda Connor and Jimmy Palmiotti introduced Red Tool, a spoof on a popular merc with a mouth that fans know and love.
While Red Tool aka Wayne Wilkins first cameoed in Harley Quinn #3, he had his first full appearance in Harley Quinn #26, the issue also the first time the protagonist adopted her cinematic counterpart's hairstyle. Red Tool is the most prominent spoof character from the series to continue on for multiple issues in comics, but readers will have to wait to find out if Keepsake's team may stick around for the long haul. The preview and solicitation for the issue can be found below.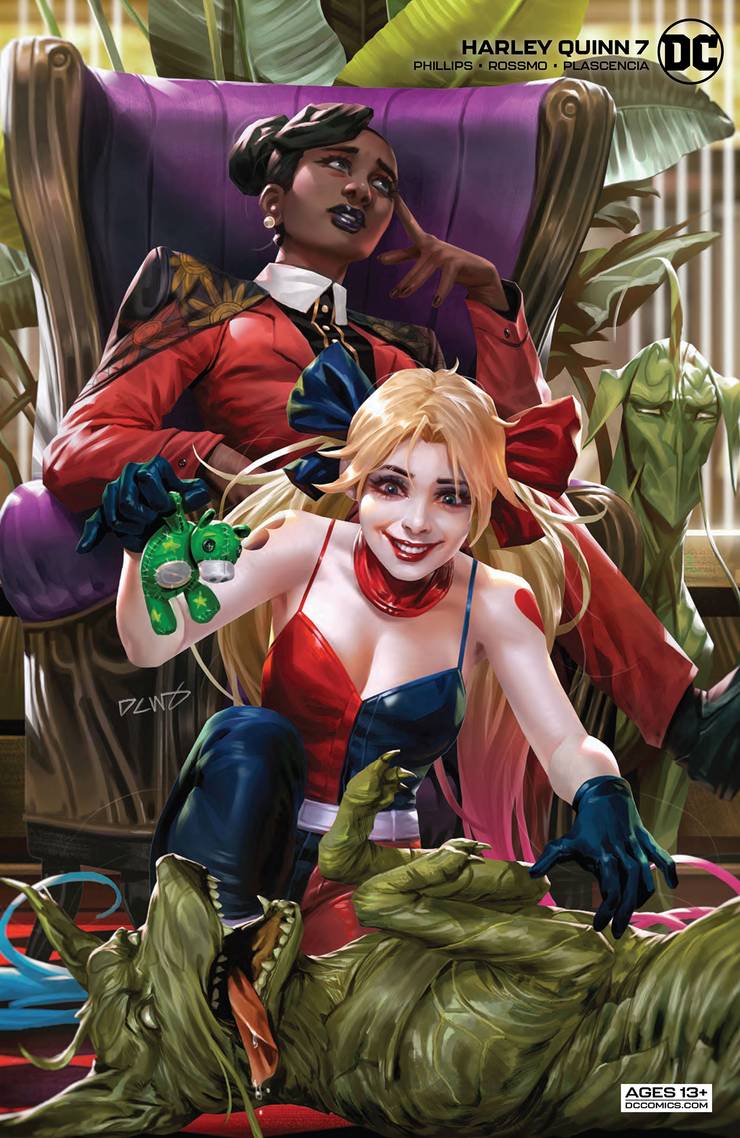 HARLEY QUINN #7
Story by STEPHANIE PHILLIPS
Pencils and inks by LAURA BRAGA
Cover by RILEY ROSSMO
$3.99 US | 32 PAGES | FC | DC
Variant cover by DERRICK CHEW
1:25 Variant cover by KAEL NGU
$4.99 US (Card Stock)
ON SALE 9/28/21
Heya, folks, Harley Quinn here! In case you all haven't noticed…things have been a little wild lately. Hugo Strange, out-of-control orderlies, kidnapped clowns, and a new villain named Keepsake…it's a lot for any one former villain turned antihero turned real hero with impeccable fashion sense to handle. I'm talkin' about ME if that wasn't clear. With all the Fear State happening in Gotham, I thought it would be a good time to go on a little camping trip. But, turns out, Gotham is gonna be Gotham…Keepsake's forming a new army, Hugo's playin' dress-up, and the city is literally tearing itself apart. This looks like a job for Harley Quinn, Kevin, and…the Gardener? Oh yeah, Bella's in this one, too! I just love her little plant dogs!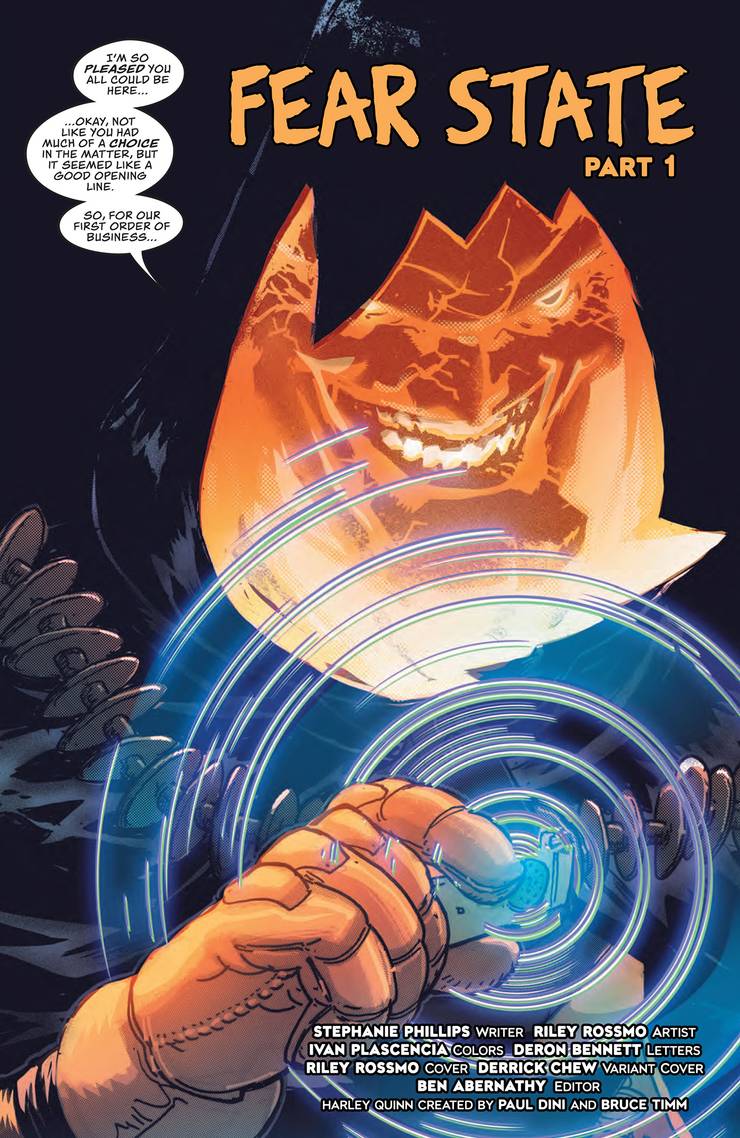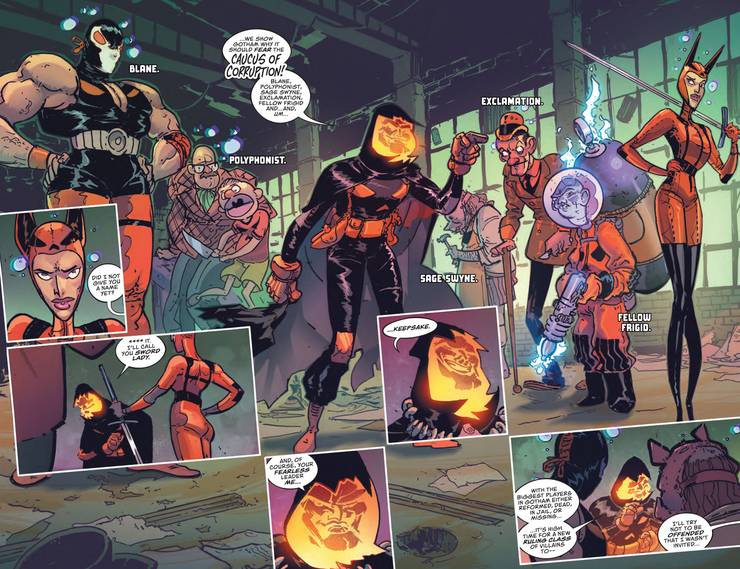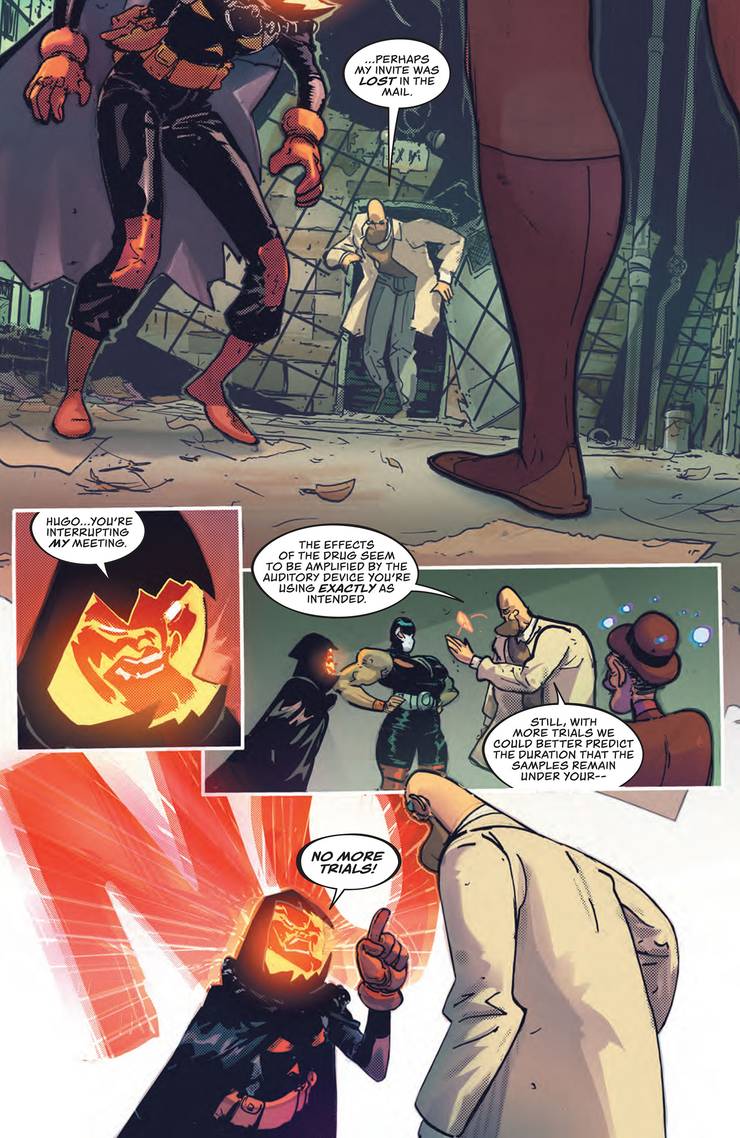 Harley Quinn #7 is written by Stephanie Phillips with art by Laura Braga and Riley Rossmo. Variant covers for the issue were made by Kael Ngu and Derrick Chew. The issue goes on sale Sept. 28 from DC Comics.