Tributes have poured in from around the world for India's top military commander, who died in a helicopter crash on Wednesday.
Chief of Defence Staff Gen Bipin Rawat, his wife and 11 others died after the Mi-17V5 helicopter crashed in the southern state of Tamil Nadu.
An inquiry has been ordered to ascertain the cause of the crash.
India's defence minister Rajnath Singh is expected to make a statement in parliament on Thursday.
Gen Rawat and his wife Madhulika's funeral will be held in Delhi on Friday.
US defence secretary Lloyd Austin said Gen Rawat was a "valued partner" for Washington.
"General Rawat left an indelible mark on the course of the US-India defence partnership and was at the centre of the Indian armed forces' transformation into a more jointly integrated warfighting organisation," Mr Austin said in a statement.
OBITUARY: India's 'tough' top general
US Secretary of State Antony Blinken called Gen Rawat an "exceptional leader".
Nikolay Kudashev, Russia's Ambassador to India, said his country had lost "a very close friend".
On Twitter, he wrote: "[Gen Rawat] played a big role in promotion of our bilateral special and privileged strategic partnership. Grieving together with India. Goodbye, friend! Farewell, commander!"
Ugo Astuto, the European Union's ambassador to India, tweeted condolences to the families of the Gen Rawat and the other military personnel who died with him.
Other diplomats based in India also expressed their sadness over the crash.
Top military officers from Pakistan have also expressed condolences over the "tragic death".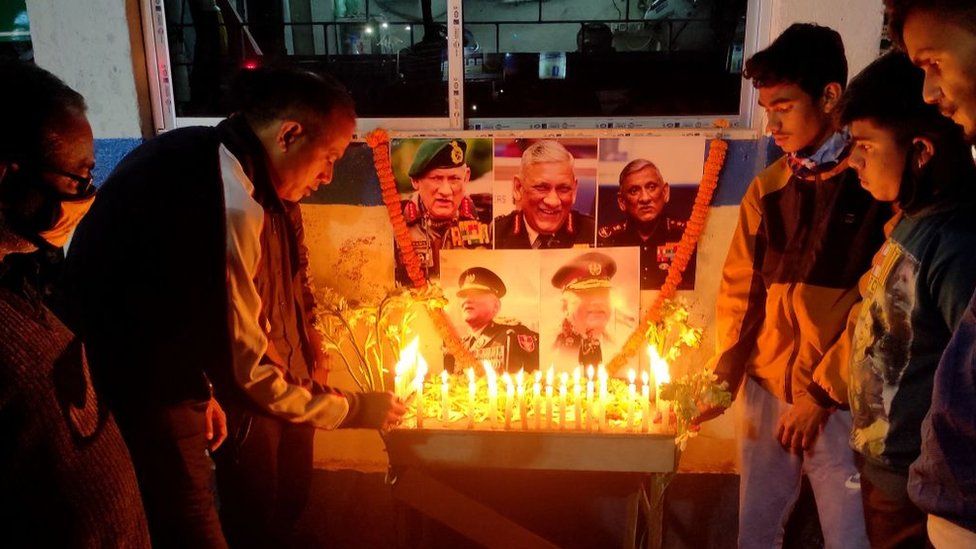 General Qamar Javed Bajwa, the Chief of Army Staff of Pakistan, had served with Gen Rawat in a UN peacekeeping mission in Congo in 2008, The Hindu newspaper reported.
In India, Prime Minister Narendra Modi led the tributes to Gen Rawat, who was India's first-ever Chief of Defence Staff.
On Twitter, Mr Modi said: "[Gen Rawat] brought with him a rich experience of serving in the Army. India will never forget his exceptional service.
"A true patriot, he greatly contributed to modernising our armed forces and security apparatus. His insights and perspectives on strategic matters were exceptions. His passing away has saddened me deeply."
Mr Singh and other leaders also paid their respects to Gen Rawat and others.
Indian opposition leader Rahul Gandhi called the accident an "unprecedented tragedy".
Several film stars and sportspersons also expressed their shock over the incident.
The Indian Air Force said it had ordered an investigation into the accident, which happened in foggy weather in the hills near Coonoor city. On Wednesday evening, a cabinet security committee held an emergency session, chaired by Prime Minister Narendra Modi.
Images from the crash site showed thick plumes of smoke billowing from the mangled remains of the helicopter, and local people trying to put out the fire.
Gen Rawat was appointed India's Chief of Defence Staff in 2019.
This brought together the Army, the Navy and the Air Force. He had previously served as the chief of India's one-million strong army.
Gen Rawat, who sometimes set off controversies with his comments on political developments, had the reputation of "an inspiring commander", the BBC's Subir Bhaumik wrote in an obituary.
What we know so far
The Russian-made Mi-17V5 military helicopter had just taken off from an army base in Sulur, and was heading for Wellington town, less than 100km (62 miles) away, where Gen Rawat was due to visit the Defence Services Staff College (DSSC).
On board with Gen Rawat and his wife were seven other military passengers and five crew members, including the pilot.
The sole survivor of the crash was a captain working at the DSSC. He is being treated for his injuries in hospital.
One eyewitness told the BBC he heard a "loud noise" before seeing the helicopter fall from the sky.
"Even the electric poles shook. Trees toppled. There was smoke everywhere," said Krishnaswamy, a nearby resident. "There was a raging flame above the trees. I saw just one person with my own eyes, he was burning, and he fell down."
Rescue efforts were hampered due to the crash site's hilly location, which is thick with vegetation.
Gen Rawat, who was born on 16 March 1958 in the northern state of Uttarakhand, was a decorated officer who often commanded units in restive regions in the country. In recent months, the general was focusing on modernising the military.
Although the Mi-17V5 is among the most sophisticated military transport helicopters, India's ageing air force fleet is often blamed for a high number of crashes.
Former army chief J J Singh said it was "a safe, proven helicopter", adding that he himself had travelled on it in difficult situations.
In 2017, seven military personnel were killed in a Mi-17V5 crash in the north-eastern state of Arunachal Pradesh. The helicopter was on a training sortie.
A year before that, another of the helicopters had crashed immediately after take-off during a military drill in the northern state of Uttarakhand. No casualties were reported.