Baazigar (1993), starring Shah Rukh Khan, completed 29 years recently, on November 12. Directed by Abbas-Mustan, the film worked big time due to the casting, plot, music and also the unconventional anti-hero element. The seasoned actor Dalip Tahil had done several projects by then but Baazigar proved to be a turning point for him. In an exclusive interview with PosterGuy, Dalip Tahil spoke about the film and raises laughs as he says how he earned the wrath of Shah Rukh Khan fans and a lot more.
How important was Baazigar (1993) for you?
Baazigar has given me a lot. To this day, people call me Madan Chopra. Shah Rukh Khan became a super duper star after Baazigar. It was also a huge hit. Nobody from the team knew it'd become so iconic. It had a profound impact on the audience.
Though I also did Qayamat Se Qayamat Tak (1988), which was also a huge success. I have been fortunate in my life to have a few iconic films. I worked in Malayalam called My Dear Kuttichathan (1984), India's first 3D film. I was in Hum Hain Rahi Pyar Ke (1993), directed by Mahesh Bhatt. I also got a part in the TV series 'Buniyad'. So, it was my good fortune that some amazing projects came my way. And I am still fortunate as I have The Family Man in the pipeline. And recently, I was a part of Toolsidas Junior (2022). It's my favourite movie. It's a clean film. You can watch it with your family without getting embarrassed. It went through such a hard time. It was meant for cinema theatres but then the pandemic came.
You have also made a mark on OTT…
I have had a lot of success with The Family Man, Inside Edge, Hostages and Made In Heaven. My entry into the OTT world has been fantastic. It's all thanks to the Lord or whoever makes things happen. I also believe that you have to work hard; there's no substitute for it. My job is to work to the best of my ability and the rest I leave to my audience. I don't look for rewards. If I read a script, I don't keep in my mind that this film might win an award.
Speaking of awards, did it hurt that you never won a Filmfare Award ever?
I have not won a single mainstream award in the film industry. And I am not at all worried about it. The biggest award that I can ever be given is from the public and thanks to them, I still get work. I have been in the industry for 48 years and I am still working. I still get offered films, theatre, OTT and television. That is my biggest award and reward. From single screen to OTT, I have seen it all. I feel privileged.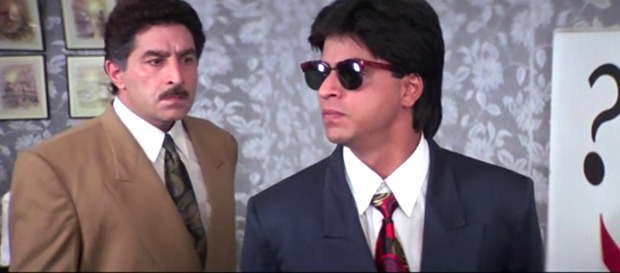 I believe that the fans often tell you that they hate you for being so cruel to Shah Rukh Khan in Baazigar…
At Heathrow airport, there was this British Asian girl. She was visibly agitated upon seeing me. She took my autograph and then said, 'I have something to say to you'. I asked her to go ahead. She asked, 'Why did you beat Shah Rukh so much in Baazigar?'. I was taken aback! She even had tears in her eyes. I asked her to calm down. I told her, 'It's only a movie. I absolutely love Shah Rukh. He's a wonderful guy. There's no animosity whatsoever. We were following a script. Also, didn't he beat me as well?'. She replied, 'That is okay' (laughs)!
Then, I had another interesting and contrasting experience, this time in Mauritius. I played Raja Dashrath in 'Siya Ke Raam'. So at the Mauritius airport, a family folded their hands in front of me and took my darshan! They told me, 'You are the father of Lord Ram'! I was speechless. I thought they were travelling to India. But they told me that they are residents of Port Louis, Mauritius. They recounted scenes from the show, some of which I also didn't remember!
Such reactions impact you. It makes you realize the impact that these movies and TV shows have on the public. When I started working on the movies, I used to wonder 'Theek hai yaar. People watch movies. Some of them become hits and people move on'. Only later did I realize the impact of cinema, including my roles.
Long ago, I did a film called Aaj Ki Awaz (1984), directed by Ravi Chopra. It was the first time that I did an all-out negative role. A female relative saw the film and told me, 'Please don't do such roles. You are not such a person'. My mother used to watch 'Buniyad' on television and used to cry. She could relate to it as she was also from Sindh.
Baazigar completed 29 years recently. Have people finally stopped hating you for your act in the film?
I think the audience has become a little more mature now. They now say 'Aap bahut khatarnaak villain hai lekin bahut acche hai'! I reply, 'Don't get fooled. I can be very bad in real life as well'!
Do you plan to get into production and direction?
I do. I have started a production company and I have a couple of interesting stories. I am extremely keen on producing and maybe even directing these films. With this production house, we'll be creating content everywhere – on OTT, television and films. I always wanted to put out stories that I love and now, I have the opportunity to do so.