Yash Raj Films' debut film Daag-A Poem of Love hits 50!
The words, "Yash Raj Films" were first seen on screen in the credit titles in Daag: A Poem of Love, which released on April 27, 1973—that is exactly 50 years ago. The film became the third-highest grosser of that plentiful year for Hindi cinema, next only to the record-smashing Bobby and the trendsetting Zanjeer and ahead of other blockbusters like Yaadon Ki Baraat and Jugnu.
This was the first film of Yash Chopra as producer. His sixth film as director and fifth success after his 1959 directorial debut, Dhool Ka Phool, it also had Yash Chopra writing the screenplay along with the then-top writer, novelist Gulshan Nanda, who also penned the story.
Few then, including Yash Chopra himself, could have foretold that in the next half-century, despite some setbacks off and on, the banner would become the Numero Uno film production company in the country.
Yash Chopra had merely decided to break away and become independent without remaining as a shadow to elder brother, B.R. Chopra at BR Films, a legend and a legendary institution, respectively. He had been assisting his elder brother since Ek Hi Rasta (1956) besides also directing Waqt (the biggest hit of 1965), Ittefaq and Aadmi Aur Insaan.
The new company, named Yash Raj Films, was launched in 1971 with this maiden production, when Yash was working with B.R. Chopra in his Dastaan. The muhurat shot for Daag: A Poem of Love was given by its hero, Dilip Kumar, who later went on to do Mashaal (1984) for Yash Raj Films. The woman who motivated Yash Chopra to launch their banner was wife Pamela, who passed away just a week before the 50th release anniversary of the film.
Though young Yash launched his own company, he also took key team members from the BR Films fold for his first film—dialogues writer Akhtar-Ul-Iman (later known as Amjad Khan's father-in-law), editor Pran Mehra, lyricist Sahir Ludhianvi and M.A. Shaikh, audiographer on a number of B.R. Chopra films.
Kaygee, assistant cameraman on several BR projects and independent cinematographer in the experimental super-hit, Ittefaq directed by Yash Chopra, was the DOP. Gaekwad, also assistant art director in several of the elder Chopra's movies, who had started off independently with Ittefaq too, was signed as art director.
At that time, Yash also took on three key members from the Dastaan team: leading lady Sharmila Tagore and composers Laxmikant-Pyarelal on board his maiden outing. Prem Chopra (in a crucial guest appearance), Manmohan Krishna and Iftekhar were others from Dastaan also cast in the film.
Rajesh Khanna, hero of Ittefaq and then the nation's new heartthrob, billed as a Superstar, and Raakhee, the new heroine who was also going places, were the other lead players. The casting coup of two top Bengali actresses, Sharmila and Raakhee, also made news, especially as Sharmila and Rajesh Khanna were already a popular sta-piai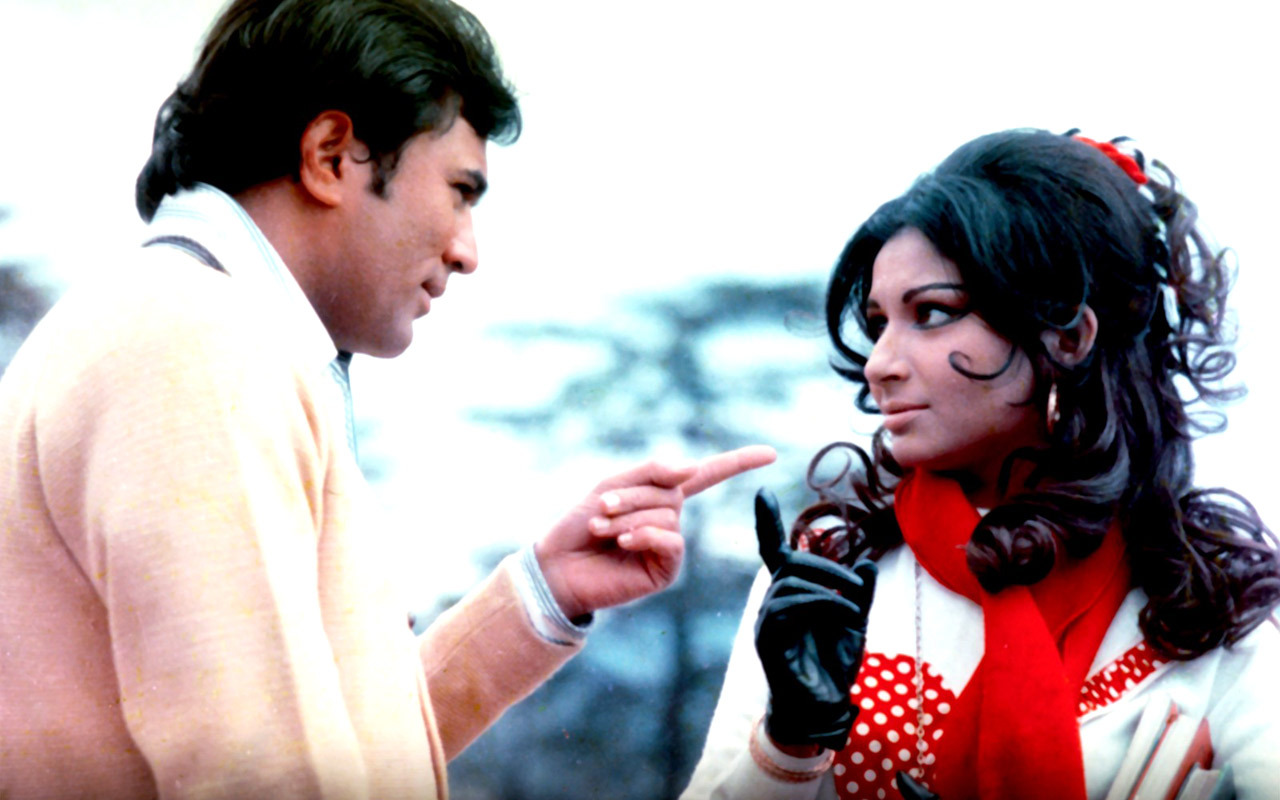 But when the film was released, the superstar was beleaguered by flops in a row—Shehzada, Mere Jeevan Saathi, Dil Daulat Duniya, Bawarchi, Joroo Ka Gulam, Maalik and Raja Rani. However, the title Daag once again proved lucky for a huge star—in 1952, a film with the same title had rescued Dilip Kumar after several failures! And after this film, Rajesh Khanna once again had a successful streak until late 1974, even as Amitabh Bachchan was evolving as the new challenger, changing trends.
The music of Daag was a huge hit, and thus for the first time, in a Yash Raj film, the heroine (and hero) were filmed romancing in snow. Simultaneously, the other heroine, Raakhee, was given chiffon sarees, and her name was 'Chandni'. All these were forerunners of the YRF leitmotif later of glamorous heroines in chiffon sarees against the backdrop of snow, including the name (and film title) given to Sridevi in Chandni. The song 'Ni Main Yaar Manana Ni' also is the forerunner of the Punjabi folk number that became a must-have ingredient in several Yash Chopra films to follow.
Also, with this film, Yash Chopra and Raakhee struck a long association with films like Joshila, Kabhi Kabhie, Doosara Aadmi, Trishul and Kaala Patthar following. As a filmmaker, Yash Chopra has never worked more often with any actress.
Trivia hunters also state that this is the first-ever appearance of Anupam Kher, as he plays an 'extra' (junior artiste) in this last song. Kader Khan also was associated here in the small role of the prosecuting attorney in the decisive court scene that gave Hindi cinema what is, perhaps, its most unique and bold climax.
Last but not least, we have to mention that this was the first film of Yash Chopra that needed outside finance—as B.R. Chopra was not involved. It was Gulshan Rai, well-known producer and distributor who financed this love story. However, he was sceptical about the results and initially had a less-than-normal number of screens for the film, especially as Rajesh Khanna was also going through a dull phase. In one week, however, the number of prints had to be tripled.
Yash Raj Films thus had a terrific beginning—half a century ago!
Click Here for home page of PosterGuy for latest update.