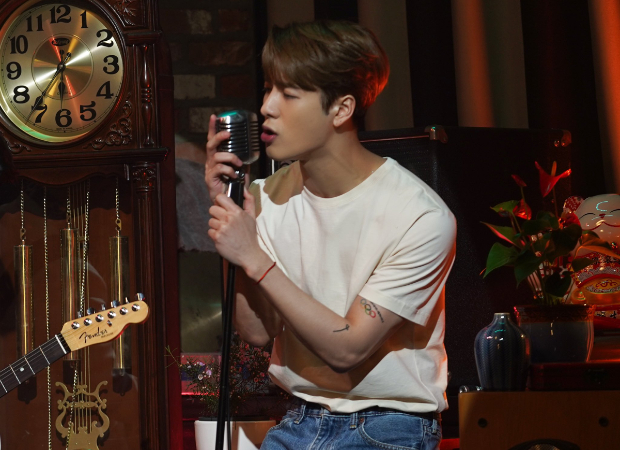 Popular musician Jackson Wang, soloist and rapper in Korean pop group GOT7, has made his late-night show debut in America. After concluding the month of March with his much-awaited solo track 'Leave Me Loving You', the 27-year-old singer-rapper-songwriter performed for the first time in the US on The Late Late Show With James Corden.
Though this was his second time appearing on the talk show, Jackson Wang gave an interview for the first talking about his performance and his upcoming album. He was zoom-ing in from Beijing at 6 in the morning to talk to Corden about his work. For his performance on 'Leave Me Loving You', he recreated the music video with the restaurant-themed set and roped in the same actors who were in the music video. Jackson Wang wore white t-shirt and baggy denims – same as the music video – with the live set up in place.  The lyrics reflect the sentiments of one-side love story, "What if I just hold on for a while / Baby there's no drug quite like denial / Oh my, if this is goodbye / Don't leave me loving you / But whatever you do / Don't leave me loving you / If you tip toe out in the morning / I need a warning."
Jackson Wang participated in the writing, arranging and composing the song along with Michael Matosic, Richard Boardman, LOSTBOY & Pablo Bowman.
Jackson Wang was recently named in Forbes 30 Under 30 Asia 2021 list. He kicked off 2021 with his track 'Alone' and it followed the success of his latest single, 'Should've Let Go', with Singaporean singer-songwriter JJ Lin and was released in December 2020. In 2020, Jackson Wang released two more singles including '100 Ways' and 'Pretty Please'.